History and Evaluation: This middle-aged female patient presented with a sudden increase in right hip and thigh pain.  She had a right hip replacement 18 months earlier at another hospital.  This surgery was complicated by a femur fracture during surgery.  Several surgeries to fix the fracture were unsuccessful. She was in a wheelchair due to pain and weakness of the extremity.
X rays showed a total hip replacement with a periprosthetic fracture nonunion. Further evaluation revealed a deep infection.
Treatment: Her treatment was complex and consisted of a series of 5 operations.  The infected hardware was removed and the infection treated with an antibiotic spacer.  The femur was stabilized with an IM nailing procedure and bone grafting.  The final operation was the removal of hardware and a revision total hip arthroplasty.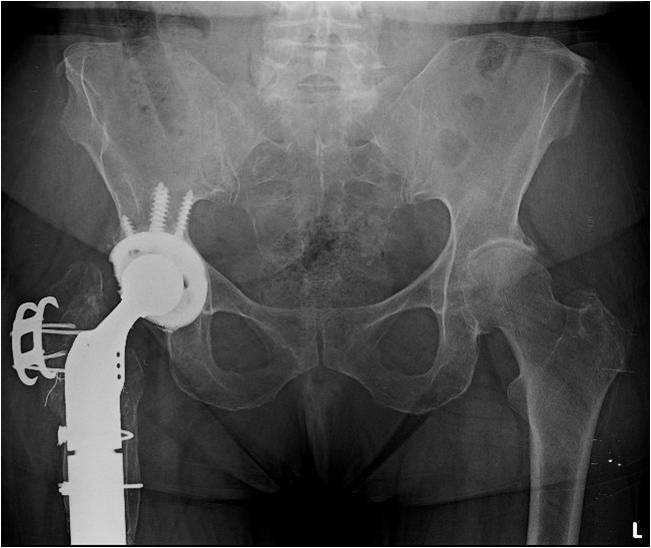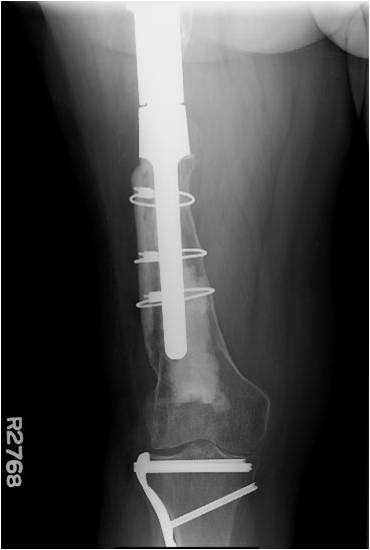 Outcomes: One year after surgery the patient was infection free and able to walk with a cane. Two years after surgery she could walk independently for short distances.  Nine years after surgery she is pain free on the right side and has had a hip replacement on the left side for arthritis.